Our Chefs
The average ChefsBest Master Taster bring with them decades of culinary experience. Palate acuity training is one of the training requirements undertaken before qualifying to ChefsBest Master Taster status. Not all that those pursue becoming a ChefsBest Master Taster are able to meet requirements for panel acceptance.
Christina Cutino
Chef Christina Cutino has been in the food and beverage industry for the past 25 years, of which 14 years have been spent as owner and operator of Cutinos Catering in San Francisco. Before starting her own company, she worked in the front of the house at numerous eating establishments throughout the San Francisco area. She holds a culinary arts degree from the California Culinary Academy.
James Reid
Chef James Reid is a graduate from Hastings College in England, where he studied hotel and restaurant management. He has worked in fine restaurants throughout England, France and Germany. For nearly 20 years, James operated his own catering company, James Reid & Company, which was voted one of the top 10 Bay Area caterers by the San Francisco Chronicle in 1999. In 2001, he began creating and developing an exceptional line of decadent and hand-crafted truffle bars, which led him to open Sterling Truffle Bar in San Francisco three years later. Currently, James caters private parties and serves as a culinary instructor for the Job Corp at Treasure Island in San Francisco.
Julie Tan
With over 25 years of experience, Chef Julie Tan is one of the most experienced Certified Master Tasters on the panel. Although trained in the art of French cooking, Julie works closely with Chef Martin Yan developing recipes, writing cookbooks, and serving as culinary coordinator for Yan Can Cook productions. She has been featured on the following PBS shows: The Academy's World Cuisine, Asian Favorites, Martin Yan's China, Taste of Vietnam and Taste of Malaysia. Julie also serves in several advisory positions, and she was the first female member of an elite all-male chef club, The Gastronome Club. Julie has been a culinary instructor at the California Culinary Academy/Le Cordon Bleu San Francisco for the past 20 years. She now acts as an interim culinary instructor at the Job Corps on Treasure Island. With her husband, Chef Roy Salazar, they founded their company A Sip & A Taste.
David Herman
David Jarrett Herman was born February 12th, 1969 in New Jersey to parents who owned a Specialty Food Distribution Company. Because of this, at an early age, David was exposed to many International cuisines. Upon completion of his Bachelor of Arts degree, David worked as a Graphic Designer for 12 years in Packaging, Fashion & Video. He attended & graduated from the world renown California Culinary Academy with a degree in Culinary Arts as a Cordon Bleu Chef. Upon graduation, David trained for three years with John Beardsley, well-known for his Asian-inspired flavors and French techniques. Most recently, David has been working as a Tasting Panel Chef, Showroom Chef for Wolf and Sub Zero Products, Personal Chef and Catering Chef for special events.
Margaret Getz
Margaret is a graduate of California Culinary Academy and was on their staff as Chef Instructor from 2007 to 2009.  She founded Epicurean Delites in 1979 and was Chef-Owner for this catering and event planning organization until 2007.  She started mCHEF4u in 2003 to add private chef and personal chef services.  Her previous restaurant experience includes being Executive Chef and Managing Partner at Tommy Toy Cuisine Chinoise in San Francisco and working at The French Laundry in Yountville.  She has been a Master Taster for ChefsBest since 2006.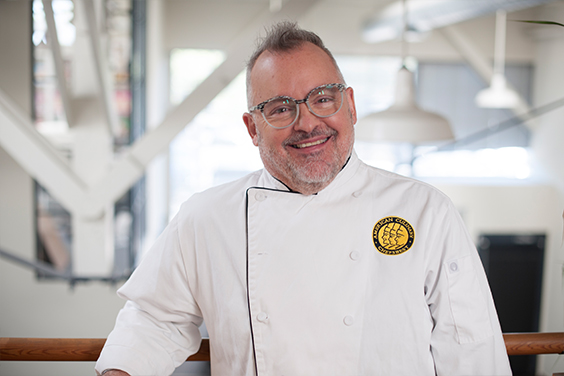 Robert Zaborny
Chef Robert Zaborny has been cooking and teaching in the Bay Area for over 30 years. Working in various restaurants and other venues, he has expanded his knowledge of food through extensive travel and shared that knowledge as a teacher and mentor in both the private and non-profit sectors of the culinary world.
Gordon Wing
Chef Gordon Wing is a California Culinary Academy graduate with over 30 years of professional culinary experience. He has worked with cookbook author Ken Hom testing recipes for numerous cookbooks. He has extensively traveled the world doing cooking promotions in London, Bangkok, Seoul, Singapore , Taipei, Auckland, and Jakarta. He was the Camp Chef at the Bohemian Grove Summer Encampment. He has 25 years of catering experience. He is now the off-site Kitchen Manager for Paula LeDuc Fine Catering.
Steve Tuggle
Chef Steve Tuggle is a graduate of California State Polytechnic University, Pomona in Hotel and Restaurant Management.  He is also a graduate of California Culinary Academy in San Francisco.  He began his career at Quadrus Conference Center is Palo Alto where he served as Executive Chef. Steve subsequently worked as Director and Chef in contract services for Sodexo and Compass Group, specializing in hospitality and dining in several premier Senior Living Communities in the Bay Area.
Jolee Hoyt
Chef Jolee Hoyt was in the television industry for thirty years as a production manager for many acclaimed national cooking series featuring Jacques Pepin, Martin Yan, Joanne Weir, the chef faculty of the California Culinary Academy and many more.  While managing these shows, she learned a great deal from these chefs, eventually getting formal training at a professional culinary school.   She began her own catering and private chef business and has loved being able to create and share food with others.  She is happy to add Certified Master Taster to her skill set.
Eric Magnani
Chef Eric Magnani has over 35 years of culinary experience and is a graduate of the Culinary Institute of America in Hyde Park, New York. After earning his second Culinary degree he focused his attention on the Luxury Resorts of the Relais & Chateau collection. Originally a wine country native, he has held Chef positions at Pebble Beach, Piatti (Sonoma), Auberge du Soleil, and the Carneros Inn. For six years he worked for one of the largest catering companies in San Francisco, where he helped produce events such as Dreamforce, Outside Lands, and fundraisers for the POTUS, Recently he was able to give back to the culinary community through his work as Head of Culinary for Homeward Bound of Marin.
Alison Negrin
Chef Alison Negrin is the founder/owner of Chef Alison Negrin and Associates. Alison specializes in recipe and product development with a focus on health and nutritional healing. She has been a Chef at such noted Bay Area restaurants as Chez Panisse, Mesa and Ginger Island, and founding chef of Bridges Restaurant. She was also executive chef for John Muir Health System (JMH). Alison had the honor of accepting 2 awards at 2012 HCWH Food Med conference for JMH's accomplishments with reducing greenhouse gases through sustainable purchasing and overall increased sustainable purchasing. Alison was the recipient of the Women Who Inspire 2013 Community Service award. Alison graduated from UC Berkeley with a BFA in fine arts, California Culinary Academy as a professional chef, and the Bauman Institute of Holistic Nutrition with a certificate in nutrition consulting. She is a lifelong learner and has finished various certificate programs to include Cornell University and the Culinary Institute.
Ivan Dubriwny
Chef Ivan Dubriwny started his culinary journey in 1996 when he graduated from the California Culinary Academy in San Francisco. Ivan then moved into the catering arena for several years where every day there was a new venue and menu. He next found himself a Sous Chef position at an exclusive country club. After three years he was given the opportunity to be the Executive Chef and run the whole culinary department. He then began doing private catering jobs on his own. Ivan ended up taking on an Executive Sous Chef position with a high end boutique catering company. In 2011 they orchestrated a fundraiser for President Barack Obama. He is currently the Executive Chef for Riggs Distributing.