Introducing the ChefsBest Quality in Craft Award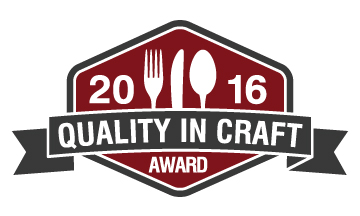 Validation of High Quality and Flavor by Certified Master Tasters® through the Quality in Craft Award to Help Brands Influence Decision-Making Among Customers, Retailers
San Francisco, Aug. 16, 2016 — Due to growing popularity of boutique brands and products with predominantly regional presences, ChefsBest has expanded its award portfolio by creating a new distinction for products previously ineligible for evaluation by Certified Master Tasters®.
Until now, ChefsBest has only considered leading national brands in its years-long history of honoring the best-tasting foods in individual product categories, unlocking coveted ad claims for retail giants like Post®, Bertolli, Dannon and Goya.
"More than ever, people are searching for products with more complex ingredient combinations, products that represent different cultures and diverse tastes," said ChefsBest President and CEO Lisa Liguori. "In response to that cultural shift, boutique brands have emerged that don't necessarily garner a national presence but still pique the interest of thousands of regional customers. Our new Quality in Craft Award is geared toward helping those products stand out to customers and retailers who may be considering a number of products for their shelves."
Under new guidelines created by ChefsBest, brands that have under $1 million in annual sales may pursue the new Quality in Craft Award.
Those who qualify will be evaluated by Certified Master Tasters using Sensory Attribute Quality Analysis®, the same proprietary judging method used when determining prestigious and nationally recognized ChefsBest Best Taste and Excellence awards.
"Our goal with the Quality in Craft award is to make our coveted ChefsBest recognition accessible to brands that operate on a smaller scale as our traditional licensees," Liguori said. "It represents a different path for us, but it's guided by the same quantifiable, reliable recognition for flavor and quality that we have always used. Now different brands can access awards that help them garner shelf space from retailers, and attention from customers who are looking for great-tasting products."
***
About ChefsBest
ChefsBest identifies and honors the best tasting grocery products in order to support the companies that make them and the people who choose to select them. Through its headquarters in San Diego and the Center for Taste in San Francisco, the organization has judged thousands of grocery products and bestowed its Best Taste and Excellence awards on the highest-quality products since 2000. Through ChefsBest, brands can unlock coveted ad claims and consumers can garner insight they need to purchase the best-tasting and highest quality ingredients. ChefsBest awards are a nationally recognized trust mark used by numerous brands, both in and out of the grocery aisle. For more information, visit ChefsBest.com.